"If I weren't living through it, I wouldn't believe it's happening." – a Florida parent and teacher.¹
Under the "leadership" of Gov. Ron DeSantis and his allies in the Florida Legislature, Florida now has the second highest number of public school book bans in the nation. PEN America, a free speech and literary organization, counted an astonishing 566 book bans across the state – and the number continues to grow.
Why? Because of three new laws DeSantis pushed for – the "Don't Say Gay" bill, anti-history House Bill 7, and anti-education House Bill 1467, which allows anyone to challenge the use of any book in our public schools. The governor's actions are forcing teachers to dismantle classroom libraries or potentially face felony prosecution.
That's why today we're launching the "Florida's Banned Book of the Week" series to heighten awareness of this anti-First Amendment attack on our public schools and students' freedom to learn.
Share the below first graphic in our series on your favorite social media platform/s via the links below: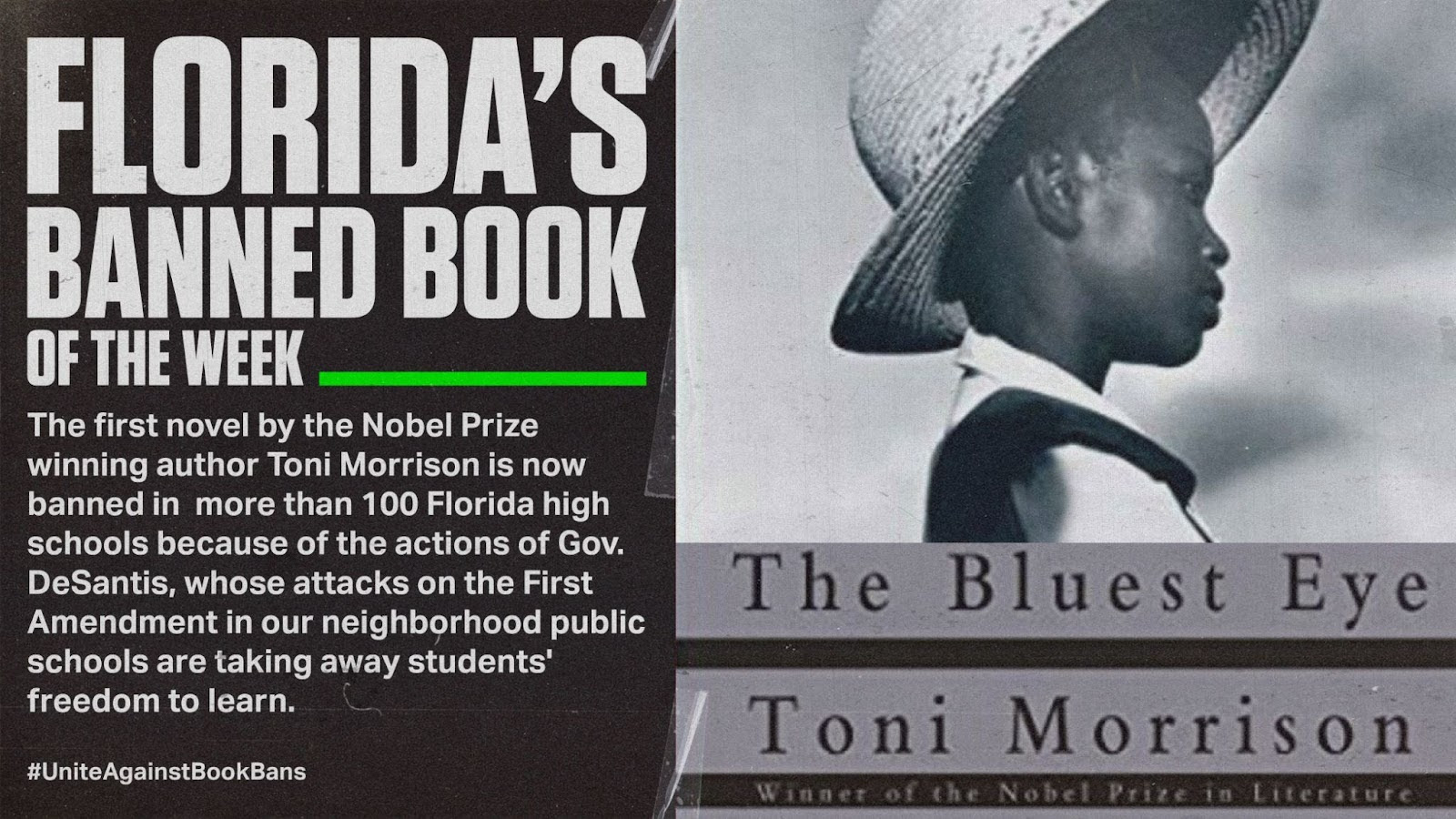 Share the above graphic on Twitter.
Share it on Instagram.
Share it on Facebook.
While our neighborhood public schools face severe teacher, bus driver, and education support staff shortages, DeSantis and his allies are instead focused on censoring classroom materials. Schools in Florida have banned books like Beloved, Of Mice and Men, Hank Aaron's Dream, and The Life of Rosa Parks.
Instead of banning books and using our neighborhood schools as pawns for the governor's personal political ambitions, we should be implementing solutions to fix the teacher shortage and solve the real issues impacting students, parents, and education professionals throughout the state.
After sharing this week's post, be sure to follow (if you're not already) our social media channels as we continue working to get this issue in front of Floridians including the media and opinion leaders.
Thanks for stepping up on behalf of Florida's students, majority of parents, and educators, whose freedom to learn, parent, and teach is being sabotaged by DeSantis' political ambitions and regressive policies.
¹Excerpted from "Why Some Florida Schools Are Removing Books from Their Libraries", The New Yorker