Gov. Ron DeSantis is out to destroy free speech in Florida. Duval County substitute teacher Brian Covey was recently fired simply for sharing a video of empty bookshelves in his classroom to draw attention to the relentless censorship of books under the DeSantis administration.
That's why we're continuing the "Florida's Banned Book of the Week" series to heighten awareness of this anti-First Amendment attack on our public schools and students' freedom to learn.
Thanks to everyone who shared the previous post in our series. Now, help keep it going by sharing our latest graphic on your favorite social media platform/s via the links below: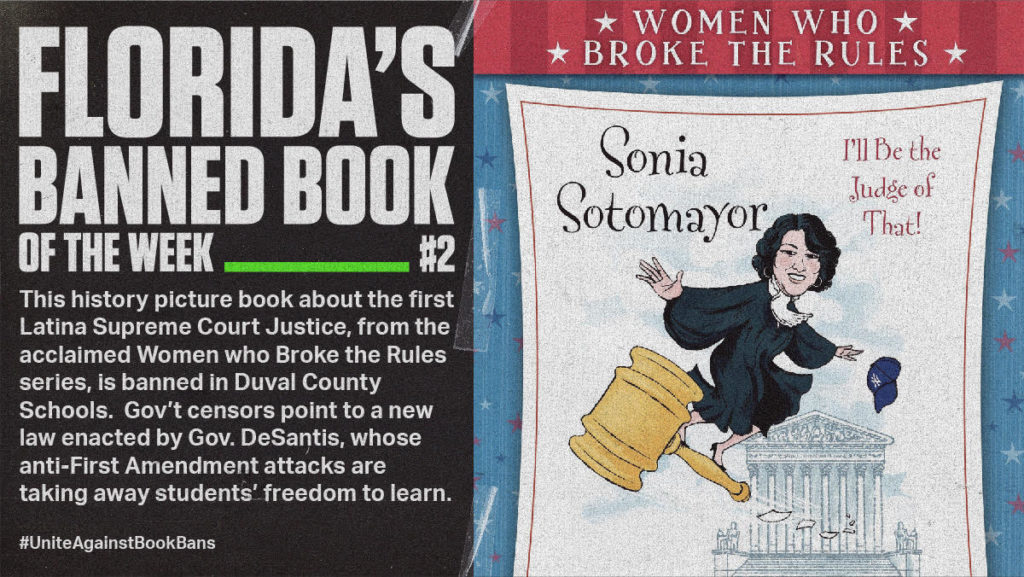 Share the above graphic on Twitter.
Share it on Facebook.
While our neighborhood public schools face severe teacher, bus driver, and education support staff shortages, DeSantis and his allies are instead focused on censoring classroom materials. Schools in Florida have banned books like Beloved, Of Mice and Men, The Bluest Eye, and The Life of Rosa Parks.
Florida now has the second highest number of public school book bans in the nation, an astonishing 566 titles, according to PEN America, a free speech and literary organization.
Instead of banning books and using our neighborhood schools as pawns for the governor's personal political ambitions, we should be implementing solutions to fix the teacher shortage and solve the real issues impacting students, parents, and education professionals throughout the state.
After sharing this week's post, be sure to follow (if you're not already) our social media channels as we continue working to get this issue in front of Floridians including the media and opinion leaders.
Thanks again for standing in solidarity with Florida's students, parents, and teachers like Brian Covey who believe in real freedom and are outraged by DeSantis' dangerous and self-serving attacks on the education system in Florida.